Discontinued product
New PixelController available here:
deskontroller LITE 64 universes
Art-Net controller for LED pixels and digital LED strips.
deskontroller 64
Tested with: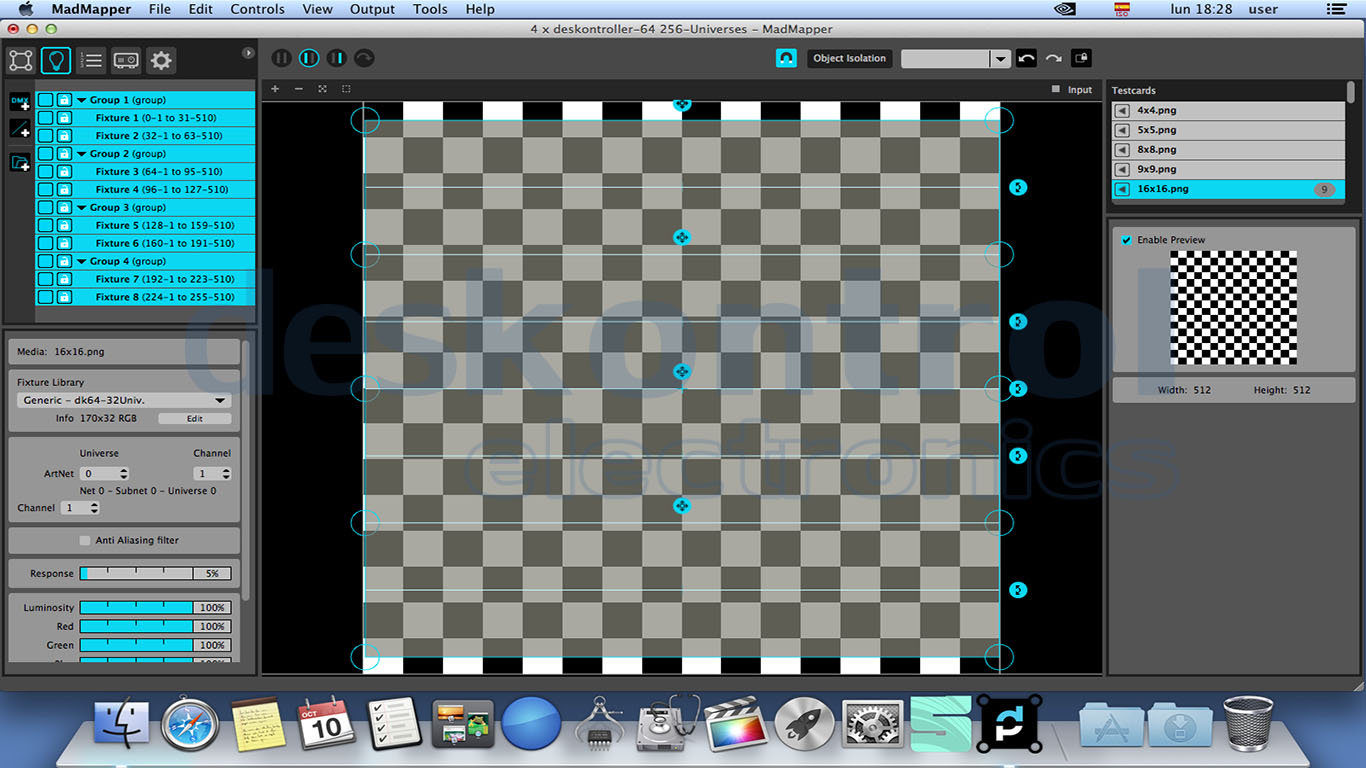 Features
- 64 output universes (32768 channels) at 50 frames per second.
- Solderless output wiring, using inexpensive standard RJ45 network cables.
- Each output line handles 2 x 4 universes (2 x 2048 channels).
- All combinations of RGB and RGBW color reorder.
- Support for standard and non standard DMX modes (at TTL levels).
- Art-Net address (Net-Subnet-Universe) configuration on steps of 32 universes.
- Supported synchronization modes: Madrix® Sync and Art-Net® Sync.
- All setup parameters needed to run are configured from DIP switches, except IP address and Art-Net NET.
- Integrated SPI Controller, you don't need any other converter for drive digital led pixels and digital LED strips.
12 VDC power adapter included. Connector available for EU, UK, US or AU.
Works with any software or console that supports the Art-Net® protocol as MADRIX, Resolume, MadMapper, TouchDesigner, VVVV, MagicQ PC, LightFactory, xLights, LXconsole, Glediator, Qlight, Lightjams, Enttec light mapper, Jinx, Mapio, and others.
Supported Art-Net I, Art-Net II, Art-Net III, Art-Net IV
Performance
deskontroller 64 is designed to handle 64 Art-Net universes with the highest level of performance, (50 frames per second, or 20 mS refresh time) for most types of LEDs.
Solderless output wiring
Now, output wiring it's easier than ever, thanks to use of standard RJ45 network cables (not included), and RJ45 to screw driver adapters (8 x included).
Universes are grouped on 4 universes blocks (2 x 4 universes on each output cable).
Synchronization
Supported modes Madrix® Sync and Art-Net® Sync.
We recommend its use when available, no configuration required, if your software sends Sync, deskontroller 64 detects it and activate for improved performance.
Configuration for Art-Net address (Net-Subnet-Universe)
It allows configuration on 32 universes steps.
You can select 7 different start addresses from DIP switches, and up to 1024 start addresses using NET (only for Art-Net III.)
Color order
deskontroller 64 supports pixels and strips with 1, 3 or 4 channels per pixel (White, RGB or 3 whites, and RGBW)
For leds with different color order, you can select any RGB or RGBW order from DIP switches.
Led drivers
More than 60 chipsets are supported, all selected from DIP switches.
APA102, SK9822
DM413
D705, D707, D708
DMX512 TTL levels, DMX500K TTL levels, DMX750K TTL levels, DMX1000K TTL levels, DMX1250K TTL levels, DMX1500K TTL levels, DMX2000K TTL levels, DMX2500K TTL levels
INK1002, INK1003
LX1003
LPD1886, LPD1882, LPD6803, LPD6813, LPD1101, LPD8803, LPD8806
MBI6021
P9813, P9816
SK6812
SM16703, SM16726
TM1803, TM1809, TM1812, TM1814, TM1829, TM1903, TM1926
UCS1903, UCS1903B, UCS1909, UCS1909B, UCS1912, UCS1912B , UCS2903, UCS2903S, UCS2909, UCS2912, UCS3903, UCS8903, UCS5903, UCS6909, UCS6912, UCS7009
WS2811, WS2812, NEOPIXEL, WS2812B, WS2812S, WS2813, WS2801, WS2803, WS2813, WS2813A, WS2813B, WS2813C, WS2813D, WS2818,WS2821, WS2822
- Art-Net™ is a trade mark of Artistic Licence Holdings Ltd.
- The Art-Net protocol documentation is copyright Artistic Licence Holdings Ltd.
- All other company names and/or product names are trademarks and/or entered trademarks of their respective holders.